Sankofa

United Continent Africa Roots Development
International Family
The SUCARDIF Association is an indigenous Pan Afrikan Non-governmental organization (NGO). SUCARDIF is registered with Dunn & Bradstreet and is dedicated to the unification of all people, particularly those Descendants in the Diaspora and the continent of Africa as a whole; the reawakening, renewal and paradigm shift on every conscious, social, economic and spiritual level. This will be attained through education, community development/health programs, human resource development and training for sustainability of life in rural areas as well as smaller townships. Click for more about SUCARDIF ..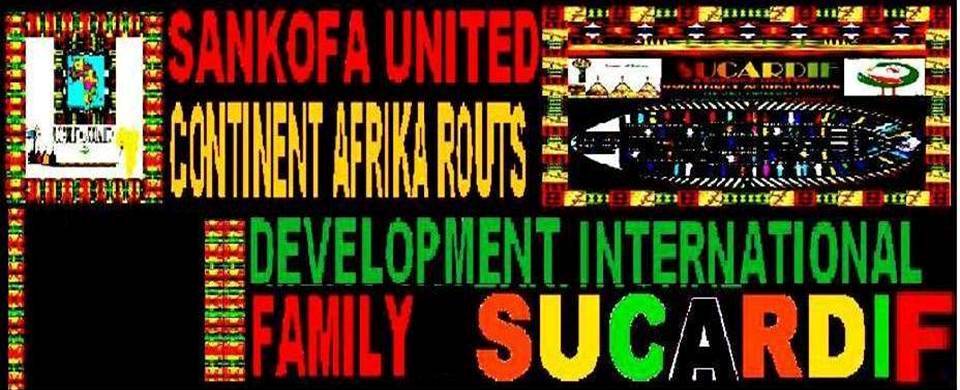 Primary Objectives:
* To develop and implement comprehensive programs that will achieve sustainable economic growth, social and cultural developments in each Township; improvement of living conditions.
* To build libraries, schools and community centers

* To raise funds in aid of the SUCARDIF Association to serve the needy and preservation of historical areas, including the Arts.

PLEASE FEEL FREE TO CONTACT US FOR ADDITIONAL INFORMATION OR TO JUST GIVE US YOUR INSIGHTS.
We listen and we respond

P.O. Box CT 732 Cape Coast Ghana

nanagyepi@hotmail.com
233 500 762315
233 243 834032

SKYPE: Nana.Kweku.Egyir.Gyepi.III

USA REP CONTACT:
Apostle Rubie James - ApostleRubie@gmail.com
233 243 283616


* SOME INTERNATIONAL AFFILIATES: IIFWP, WANGO, Unification Church Community College of Philadelphia, Hopeful Gospel Family Church, Inc., Philadelphia, PA; Compton Community College California, Tools for Change Florida; D. Murphy "The Thinker", Philadelphia, PA: Digital Divide Bridge Foundation Miami-Dade, FL; O.I.C. International, Philadelphia, PA, The Galaxy Group, his Love & Truth Ministries International

* SOME LOCAL AFFILIATES: The Key to Life Foundation-Western Region, Ghana; Take Pride in Ghana-Central Region, The Afrikan Medical Trust Fair Trade-Accra; One Africa Production-Cape Coast/Elimina, U.S.I.S. Dubois Centre, Afrikania Mission
* SUBSIDIARIES OF SUCARDIF: TOWER OF RETURN FOUNDATION, Mensah Sarbah Fun Club, (Environmental Group), SUCARDIF Youth Wing
* TOWER OF RETURN FOUNDATION: The foundation is a fund raising component of SUCARDIF ASSOCIATION. It is a Private non-profit organization based in Accra, Ghana Established in December 1995. The foundation is a unified voice representing the economic, social and cultural interest of thirteen Ghanaian Townships.